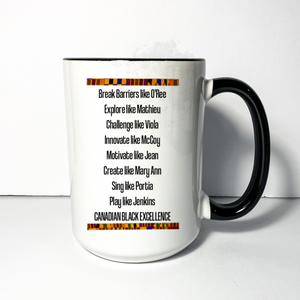 CANADIAN BLACK EXCELLENCE MUG
Regular price
Sale price
$15.00
---
Celebrating Canadian Black Excellence and the contributions of people of African decent to our culture and society. This is by no means the complete list, we urge you all to learn more about these (and the MANY, MANY other) POWERFUL Black Canadians.

The details:
15oz. dishwasher, microwave safe mug
Printed on both sides
Proudly printed in Whitney Pier, 15% of every sale will be donated, annually to local organizations and charities that work to advance socially conscious thinking.
---
Break Barriers like O'Ree– Willie O'Ree, the first black player in the National Hockey League. Willie played for the Boston Bruins and was referred to as "Jackie Robinson of Ice Hockey" for breaking the colour barrier in the sport.
Explore like Mathieu– Mathieu da Costa, the first recorded black person in Canada. Mathieu acted as a bridge between Indigenous peoples in Canada and European explorers through his translations.
Challenge like Viola– Viola Desmond, activist and business women. In 1946 she challenged racial segregation at a Nova Scotia Cinema by refusing to leave the whites-only area and helped start the modern civil rights movement in Canada.
Innovate like McCoy– Elijah McCoy, mechanical engineer and inventor. McCoy invented an industry changing device for steam-powered engines and eventually registered more than 50 patents.
Motivate like Jean– Jean Augustine, advocate for social justice, and politician. In 1993 Jean Augustine became the first black woman ever elected to the Canada House of Commons then some years later became the first woman of African heritage to serve as a cabinet minister. Jean also played a crucial role in establishing Black History Month in Canada
Create like Mary Ann– Mary Ann Shadd, educator, publisher, abolitionist. Mary Ann Shadd was the first Black female newspaper publisher in Canada. Shadd founded and edited The Provincial Freeman. She also established a racially integrated school for Black refugees in Windsor, Canada West.
Sing like Portia– Portia White, the first black Canadian singer to become an international star in the 1930s and 40s.  She was considered one of the best classical singers of the 20th century.
Play like Jenkins– Ferguson "Fergie" Arthur Jenkins, baseball player. Arguably the finest Canadian-born baseball player.  In 1987, he was elected to the Canadian Baseball Hall of Fame and in 1991 he received baseball's ultimate honour when he became the first Canadian elected to the Baseball Hall of Fame in Cooperstown, NY.